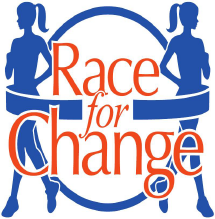 My friend Carrie is about to head off on an adventure. She and her friend Lindsay have formed an organization they are calling "Race for Change." I'll let Carrie and Lindsay explain in their own words:
The journey of two small-town girls as they use their passion for running to create some positive change for women struggling to rebuild their families and communities after the devastation of war.

Beginning in July, 2013, Lindsay King and Carrie Saylor will take their love of (obsession with?) running to a whole new level. Living on a shoestring budget, they will travel to six different continents in six months, running a marathon in each before moving on. They look forward to the challenges of culture shock, volunteering with local charities in each country, and training for grueling marathons in unfamiliar territory.
Right now they are working to raise the $5,000 they need to support themselves in their travels. If you've ever travelled, you know this isn't much and they'll be living simply. They are accepting donations here.
They only have until the end of the month to raise what money they can to support themselves. In July, they switch over to raising money for Women for Women International, a Washington, D.C.-based charity focused on helping women survivors of war, civil strife and other conflicts by providing them with the tools and resources they need to move from crisis and poverty to stability and self-sufficiency.
Personally, I'm thoroughly impressed by what Carrie and Lindsay are setting out to do. I know I couldn't do it, and I admire them for their dedication and commitment to living their ideals. The sheer commitment they've made to getting ready for this marathon of marathons – running in a race nearly every weekend for the better part of a year – alone is impressive. If I remember correctly, the races themselves are in Switzerland, South Africa, Nepal, Australia, California, and somewhere in South America.
Because we can't go along, we'll be cheering the ladies on from here at home! As I mentioned, once they begin the trip they'll be fundraising for Women for Women International. And yes, I will be bugging you about this throughout the year.