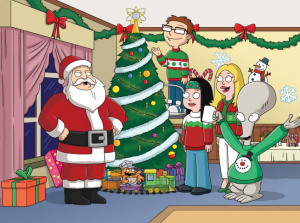 If you haven't been watching American Dad's Christmas episodes over the past few years, you are missing out on some modern classics. They're all available on Netflix. In order:
Season 2, Episode 9: "The Best Christmas Story Never Told"
Season 3, Episode 8: "The Most Adequate Christmas Ever"
Season 6, Episode 8: "For Whom The Sleigh Bell Tolls"
Season 7, Episode 7: "Season's Beatings"
Season 9, Episode 8: "Minstrel Krampus"
Season 11, Episode 6: "Dreaming of a White Porsche Christmas"
Then do yourself a favor and check out this as well:
Season 9, Episode 6: "Independent Movie" (a spot-on sendup of a certain film genre)
And the Stelio Kantos Duology, if only so you can get the song stuck in your head, too.
Season 5, Episode 16: "Bully for Steve"
Season 8, Episode 17: "The Full Cognitive Redaction of Avery Bullock by the Coward Stan Smith"
Share and Enjoy!